Recipes for a dreamy summer feast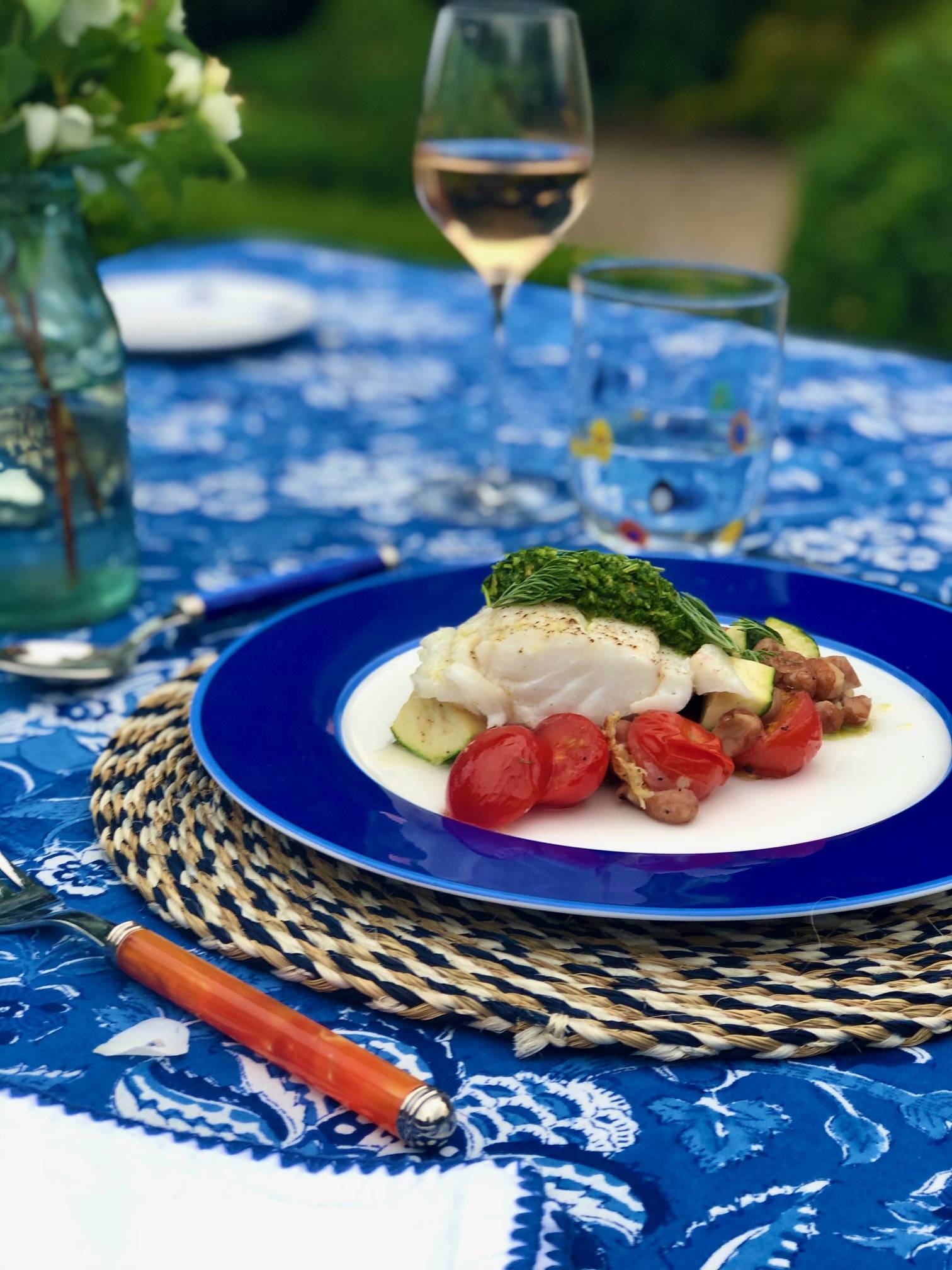 With the summer heat upon us and rosé season in full swing, we share some culinary tips from the experts at N5 Kitchen, who have created a heavenly, simple menu for wowing guests at your table.
N5 Kitchen is a London-based company curating original and seasonal food. Founders Milly & Suzie presented their heavenly dishes laid up in the garden with our Chelsea Blues and Garden of Eden tablescapes. These floral LAY Looks certainly come to life surrounded by the birds and bees!
With beautiful British seasonal ingredients and a picture-perfect pudding, try out these dishes for a tasty summer lunch at home.

Pictured: Roasted cod with borlotti beans, cherry tomatoes, courgettes and a green parsley sauce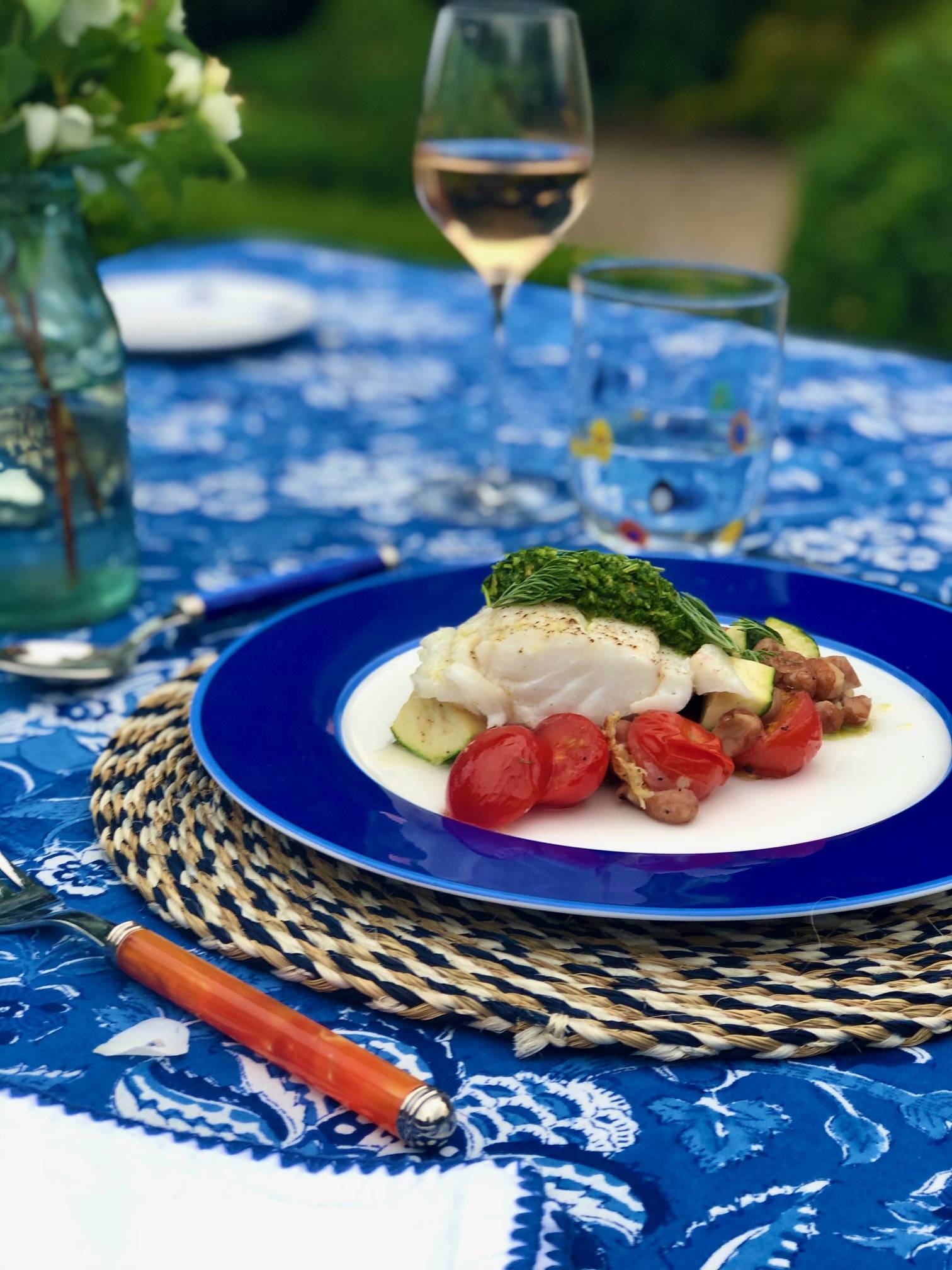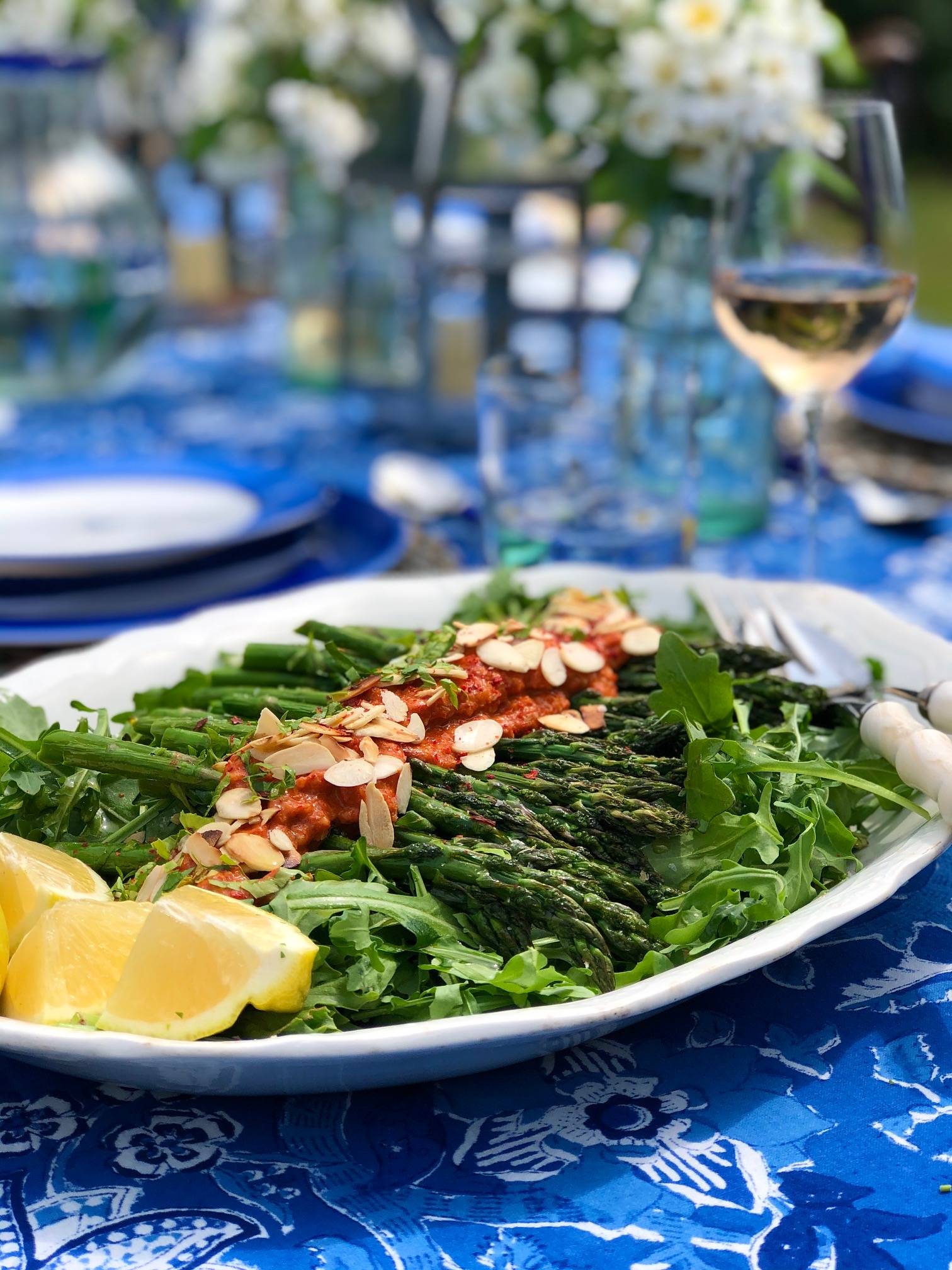 Milly & Suzie: This recipe is a colourful way to make the most of asparagus season. Quick and easy to make, it's the perfect sharing starter.
Asparagus, romesco and rocket
Ingredients: serves 6

2 large bunches of asparagus
460g jar of roasted peppers
200g rocket
2 handfuls flaked almonds
4 tbsp good olive oil
1 tbsp sherry vinegar (or balsamic)
1 lemon
Method:
• Place the asparagus in a roasting tray, toss with olive oil & sea salt, then pop into an oven at 200C for 3-5mins depending on the thickness of your asparagus. Leave to cool.
• For the romesco sauce, place the drained peppers, almonds, olive oil and vinegar into a food processor and blend. Season with salt and pepper to taste.
• Lay the rocket on a serving dish and drizzle with a little olive oil and a sprinkle of sea salt. Arrange your asparagus on top, then spoon over your romesco sauce.
• We like to garnish with toasted flaked almonds, some finely chopped flat leaf parsley and a few wedges of lemon to squeeze over once served.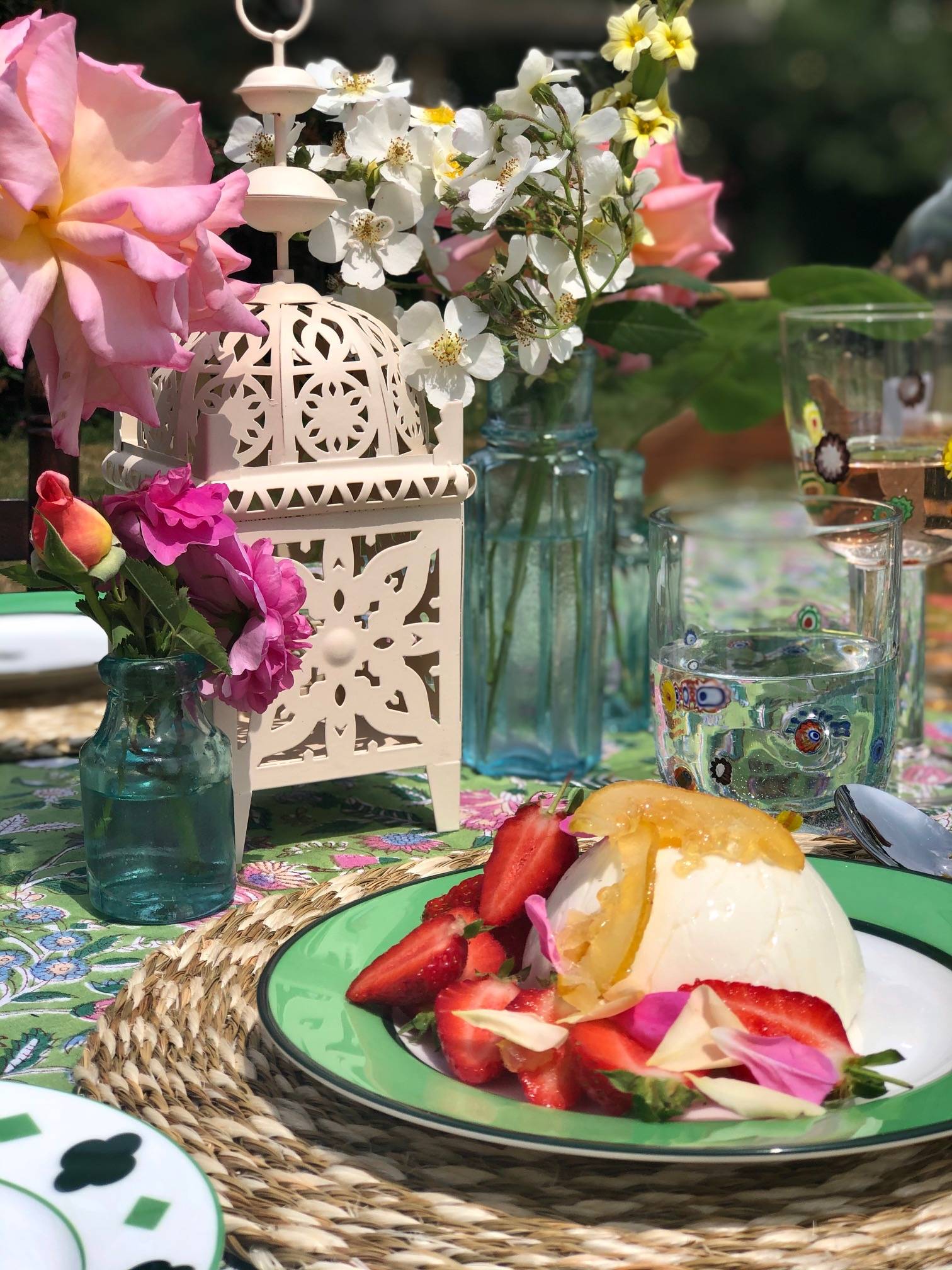 Milly & Suzie: Using yoghurt in panna cotta makes for a lovely light texture and gives a slight tang so it's not too rich. English strawberries are at their best right now and pair wonderfully with rose.
Rose and yoghurt panna cotta with strawberries
Ingredients: serves 6
300g crème fraiche
300g yoghurt
5g gelatine sheets
75g caster sugar
3 tsp rose water
2 punnets of strawberries
Method:
• Soak your gelatine leaves in a bowl of cold water to soften.
• Put two tablespoons of the crème fraiche into a saucepan and place on a medium heat. Add the sugar and rose water, and stir until the sugar has dissolved. Remove from the heat.
• Remove your softened gelatine from the water and add to the saucepan with the warm crème fraiche, stirring until fully dissolved.
• Combine the remaining cream and yoghurt in a large mixing bowl, then pour in the sweetened crème fraiche and stir everything together.
• Pour into ramekins and leave to set in the fridge for at least 4 hours.
• When ready to serve, glide a knife round the edge of the ramekin to loosen the panna cotta and tip out onto dessert plates. Halve the strawberries and use to decorate. Candied lemons, crushed pistachios or rose petals also look very pretty.